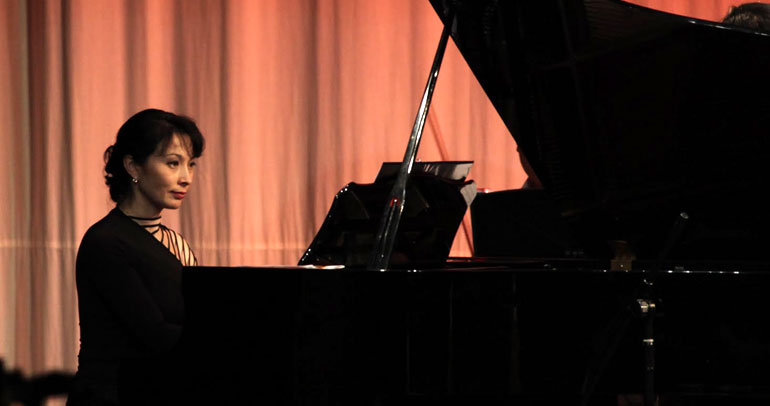 Lana Em
Pianist and Piano Teacher
 Lana Em was born and raised in Arkhangelsk City, Russia where she started piano in music school at age 5. She received her Bachelor's Degree from the Music College in Arkhangelsk and her Master's from the Academy of Arts and Culture in Samara, Russia. Having moved to California she studied under Richard Rodgers at the San Francisco Conservatory and worked with such outstanding musicians as Michael Goodwin, Conductor of the Auburn Symphony, Noah Horstock (viola), Dionisio Martinez (clarinet) at the Apollo Arts, CA.
In 2010 and 2011 Lana was invited to play with the Vietnamese Orchestra in DC.
Her greatest enjoyment is in playing chamber music, she also takes great pleasure in accompanying young musicians and teaching students of all ages in her private studio. Since 2009 Lana has performed in MD, VA and DC with duo and trio ensembles.
In recent years she has enjoyed accompanying talented instrumentalists on county and state competitions and festivals. In addition, as a collaborative pianist she works with the students of Yakov Shapiro, the concertmaster of Potomac Symphony Orchestra.
Q.
Where
do
lessons
take
place?
Lana's piano studio with beautiful baby grand piano is located in Sarasota FL 34240.
Q.
Does
a
student
really
has
to
have
an
acoustic
piano
to
practice
or
enough
to
have
a
keyboard?
There is a big difference in sound' satisfaction between playing a piano and a keyboard. You can pound on a line of plastic keys that bounce back up at you, or you can pound on wooden keys that have resistance (is what allows you to play dynamics) and substance. 
The sooner a student has the opportunity to practice on an acoustic instrument with that kind of nuanced musical responsiveness, the better. 
Digital pianos, which are smaller but still have 88 keys, less expensive, and do a decent job of mimicking the sound and feel of an acoustic instrument, could be another option. Please, no keyboards.
Q.
Why
do
you
teach
one
hour
lessons
and
not
half
hour?
First of all, I believe it is important to develop a relationship with students. As well, a lesson combines theory, technique, and performance that gives the student a basic understanding of music from the beginning through advanced levels.
Q.
What
does
it
take
to
be
a
successful
student?
For me, a successful student is one who develops a love of music and who experiences continuous improvement.